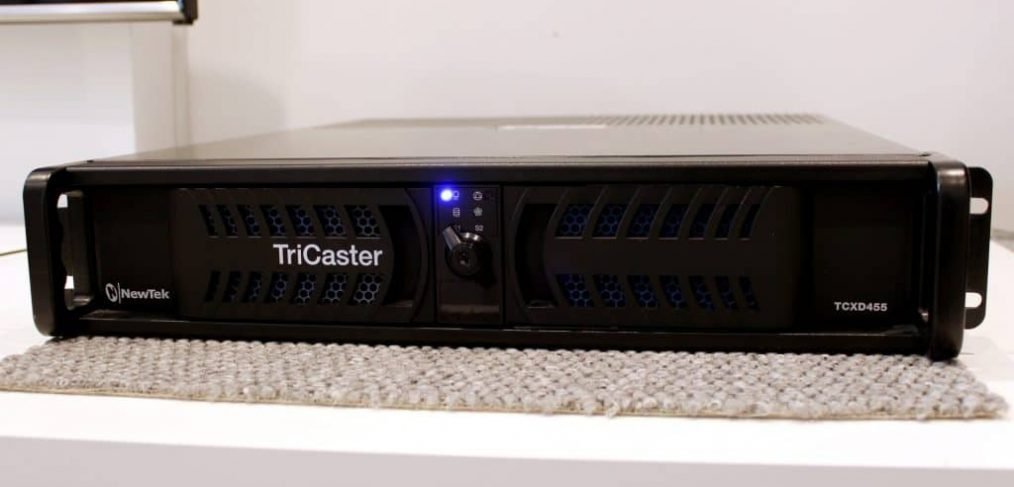 For Sale: NewTek TriCaster 460 with Advanced Edition Software – £4,950
I'll be sad to see her go, but after years of great service it's time to put my TriCaster 460 up for sale as I'm planning on purchasing a new TriCaster TC1 unit in the next few months.
This unit started life as a TriCaster 455, but a paid software upgrade from NewTek turned it into a 460. Last year I spent another £1,850 on an additional upgrade to the latest NewTek Advanced Edition software.
It's spent time in a permanent studio set up as well as on the road and has always been flight cased and well looked after while on it's travels. It's recently had a new power supply unit fitted by CVP and had a full test and MOT of all its drives and hardware while it was there.
Below are some of the key features of the standard TriCaster 460 system:
4 x HD-SDI, SD-SDI or Component or Composite inputs
3 x 2 Balanced ¼ and 1 x 2 Balanced XLR audio inputs
2 x DDR video players
30+ HD live virtual sets with presents and multiple camera angles
Record up to 4 channels of video across two hard drives using IsoCorder technology
HD live streaming to a wide variety of sites including Facebook, YouTube and Vimeo
The NewTek website details more than 100 benefits of the Advanced Edition software, and I've listed some of the ones that really stand out since I upgraded the system last year:
The addition of 4 additional video inputs via NewTek NDI IP video protocol
Multi step macros to help you automate even the most complex tasks on the system with a single button press
Ability to set up instant replay video playback during live filming and recording
Multi-platform live streaming means you can now stream to two different locations at the same time
Essentially, it's a fantastic all in one box for filming, recording and streaming a huge variety of content.
The 460 units are available to buy new in the UK from companies such as CVP for £13,395 ex VAT and I think that a price of £4,950 is fair especially given the added software upgrades that are included. It's available for free collection from me in York, but I do regularly travel across the UK for work and would be happy to drop it off it I was passing close by. Alternatively, we can look into shipping costs depending on where you are and agree the cost for this before I dispatch it to you.
Feel free to email me or give me a call on 07786807502 if you have any questions or would like to make me an offer.