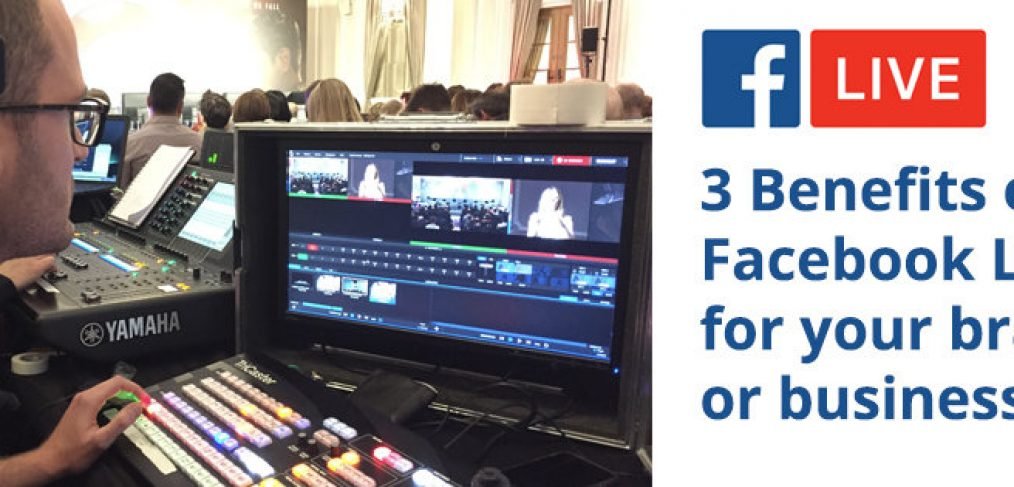 3 Benefits of Facebook Live for your brand or business
Many brands are just starting to get to grips with using video as a marketing tactic for business. And while video is still very much relevant – it will make up more than 80% of all internet traffic being consumed by 2020 – it's little cousin, live video has really hit the ground running in recent years. Live video is quickly becoming one of the fastest-growing tools on the internet; its growth is already outperforming all other types of . This makes this the ideal time to get into this new and exciting avenue of online communication and taking advantage of the benefits of Facebook Live for your brand or business..
Every business with a Facebook page has access to Facebook Live and can begin streaming on the site for free. Plus, Facebook currently favors Facebook Live videos and gives the format preference through its algorithms. So not only are more people interested in seeing live videos, but the chances of them seeing it organically on their news feed are also much higher too.
Here are 3 benefits of Facebook Live for your brand or business.
1. Live Video is the Best Way to Connect with Your Audience Directly
While product or service videos can provide an excellent platform for potential customers to start learning more about what you do, live videos give them the chance to learn more about who you are. With Facebook Live you can target and speak to the followers of your page or brand directly. Anyone who's interested in what you're doing will be able to tune in and instantly feel more connected with your brand because live video allows them to get to know the brand on a more personal level. Also, live videos will enable you to get product feedback and insights instantly from potentially thousands of customers and it doesn't have to cost you a penny.
2. It's A Cost-Effective Marketing Tactic
As digital marketing expands, new and exciting ways to spend (and sometimes waste…) the budget opens up. These days it's a struggle to get any sort of idea on ROI before starting on a project with a new digital tool. But the Facebook Live streaming platform itself is absolutely free, and you can use a service that gives you direct access to millions of eyes and ears with no cost at all.
A bonus is that Facebook is already doing half of the promotion work for you since their algorithms favor Facebook Live in the newsfeed. This means you often don't need to spend money to promote an event to get an audience to view your event. Also, even if someone ends up missing the live stream, the video shows up on your page for anyone to watch again later on demand in their own time.
The money you do save by using a platform that allows you to broadcast for free allows you to use extra budget funds on producing a professional-looking event that really makes it stand out from the crowd.
3. Facebook Live Drives More Traffic to Your Page
If you start producing great events that people engage with, their comments and likes will attract others to join your page. In fact, Facebook Live has been proven to generate 600% (yes, that's six times) more engagement than regular videos, which can boost your SEO immensely.
A good live event can create a lot of excitement in the audience about the company or your product as they interact with you and each other. Live events that encourage lots of engagement from viewers have the added benefit of increasing purchase motivations in the audience and will prompt them to spread the word about the company's products or services. This happens with a precision that's not possible via any other channel.
Here is a great example of a Facebook Live event from Birchbox where a slick production combined with loads of audience interaction and engagement led to a really successful online event:
Customer Appreciation Day, Live!

Welcome to Customer Appreciation Day, Live! We're bringing you an hour packed full of games and competitions, with thousands of pounds of prizes from your favourite brands to be won. So get involved and help us celebrate and say thank you to YOU! Find out more: https://birch.ly/2NQuoPm

Posted by BIRCHBOX on Friday, September 28, 2018
It might be a bit daunting to do your first Facebook live broadcast, and to be honest, it isn't a bad thing if you are a bit nervous about it this as it shows you care about the quality of the output. I see so many brands that launch into a broadcast to their fans with no forethought or planning. This more often than not leads to a bad experience for the viewer which throws away any benefits of Facebook Live outlined above! If you'd like to have a chat about how we can work together to create great Facebook Live events for your brand or business, please do get in touch.